This is one of those dishes for which each Italian family would have its own recipe, often tweaked with seasonal ingredients and touches; for example, a few cherry tomatoes added to this otherwise in bianco soup in summer, or some fried bread croutons to make it even heartier in winter. The basic recipe below is vegan, but if you're not you could add a Parmigiano crust or a little leftover prosciutto rind (a favourite of Pasquale!), for a rounder flavour and to be frugal with food waste.
You can make this more or less soupy, more or less starchy (see options below). This is really a canvas to experiment, let us know your favourite variations in the comments!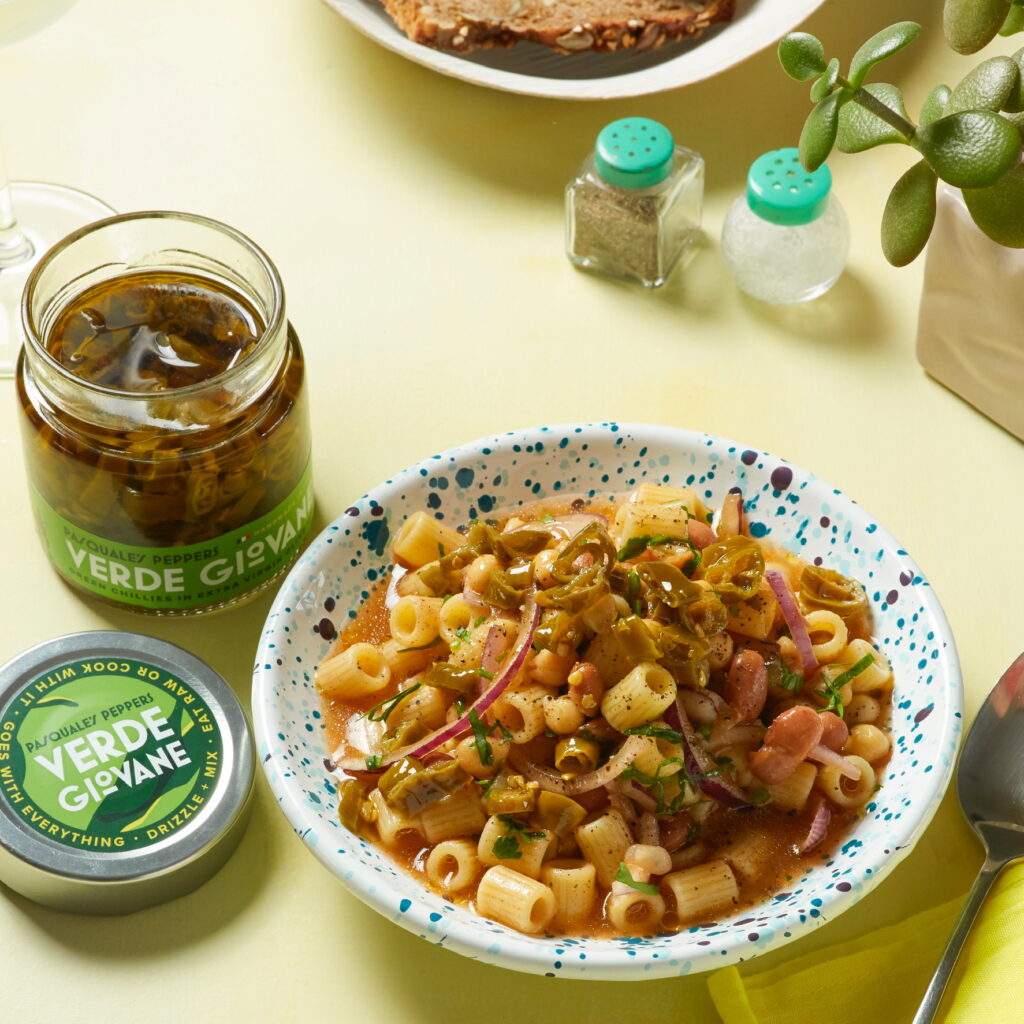 /a dish for which each Italian family would have its own special recipe, with seasonal ingredients and touches
Ingredients (makes 4 big portions – leftovers are great for up to 3 days)
250g dry pasta (you could use Ditali Rigati as we did, but any small/medium format would work including Conchigliette, Orecchiette or even Gnocchetti Sardi. We think very small pasta shapes like Orzo don't work here. If you don't have any small pasta, try breaking Spaghetti. We won't tell the Pasta Police, promise!)
Two good quality 400g tin of chickpeas, some canning liquid reserved (if you have more time, it's totally worth using dried chickpeas, soak them overnight and boil/pressure cook until soft but still firm)
4 tbsp Extra Virgin Olive Oil + some to finish
4 fat cloves garlic, peeled and crushed with a knife blade
1 medium onion (red or yellow works best) or 3 shallots, finely chopped
1 sprig rosemary
1 vegetable stock cube (or homemade stock of course) to make 1.5lt
Salt to taste (add at the end or will make chickpeas skin harder)
1 tsp each Rosso Maturo and/or Verde Giovane, to serve
Optional:
1 tbs tomato concentrate (optional)
1 ts sweet pepper/ Peperoncino Dolce (powdered or in flakes) (optional)
Parsley to taste (optional)
Directions
In a pot, sweat the onions or shallots with the olive oil.
When they start to brown (this will take 10-15' at least), lower the heat and add the crushed garlic. Watch it carefully so the garlic does not colour, it needs to gently infuse the oil.
Add your sweet pepper powder/flakes (if using) and cook for a couple minutes until they lose the "raw" smell.
Add your chickpeas and canning liquid to the pan and toss well in the flavoured oil. You can remove the garlic cloves at this point if you prefer a more delicate flavour, or leave them in.
Cover the chickpeas with the stock, add the rosemary on the sprig and tomato concentrate if using. Bring to the boil, then lower the heat, put a lid on and let simmer for 40-50', stirring and checking the liquid level every 10' or so. If it gets too dry, you can add a bit more stock or water.
When the soup is around 30' in, start cooking the pasta. You have two options here resulting in a very different texture for the finished dish, why not trying both and see which one you prefer?

Cook the pasta separately in boiling salted water, leaving it well al dente, then add it to the soup when it's done cooking. Give it a good stir and let it rest a couple minutes before serving. Note: this option is what you can see in the picture on this page.
Cook the pasta together with the chickpea: add some boiling water and a pinch more salt to the soup, wait for it to come back to boil then add the past and cook for the suggested time or slightly less. This option requires a bit more stirring, but it end up in a creamier finish as the chickpeas starch makes friends with the pasta starch and forms a very beige but delicious mush. My favourite winter option.
Plate up! Ladle in a fondo plate or a bowl, garnish with a little parsley (optional), a drizzle of Extra Virgin Olive oil and your desired amount of Peperoncino. We have used Verde Giovane in the pictures, but this goes equally well with Rosso Maturo, especially if you've used tomatoes.
Buon appetito!