Like other classic Italian dishes, this is less of an exact recipe than a method, or rather a canvas on which you can – and should! – improvise based on season, availability and personal taste.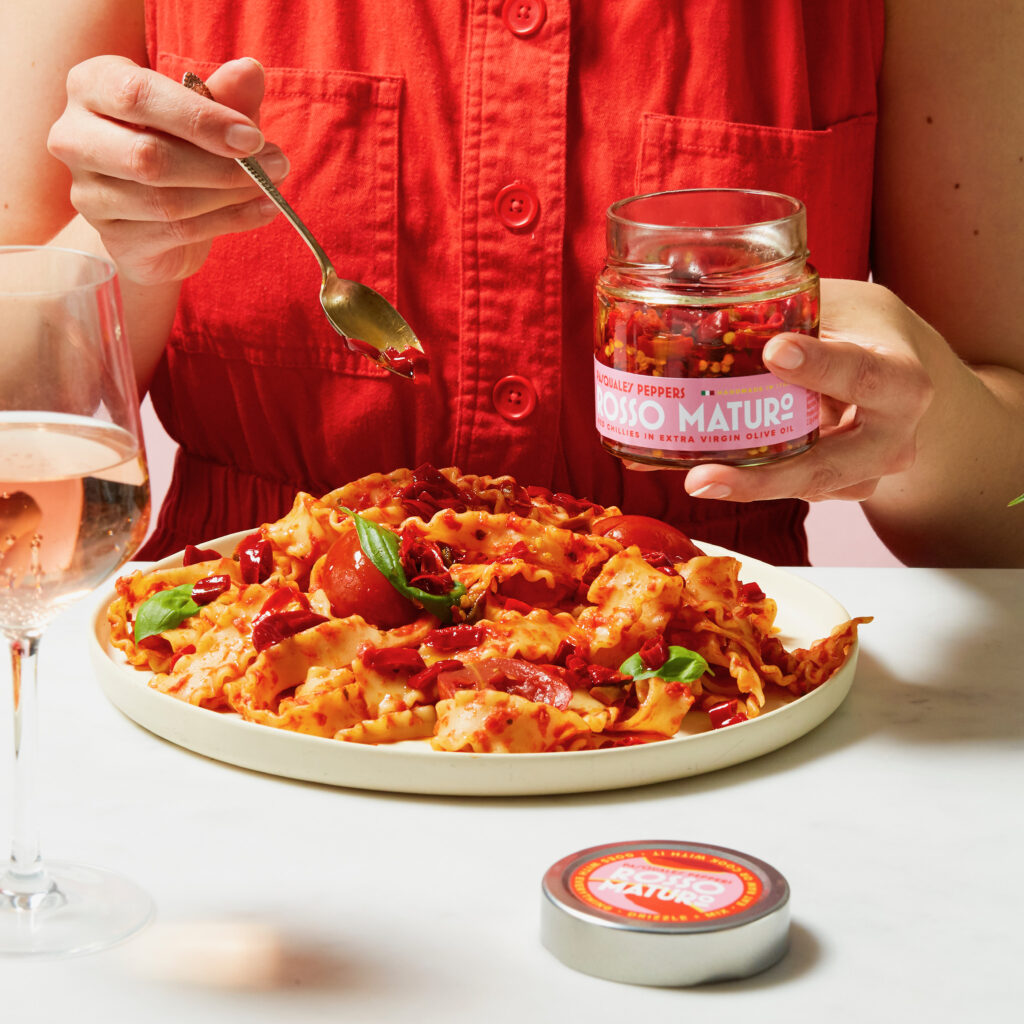 The version you see in the picture and the recipe below uses both whole fresh tomatoes and passata (jarred/bottled tomato sauce). I find this is the best of both worlds, but you can also make this dish with what you have at hand – probably passata or tinned tomatoes most of the year if like me you live in the UK, and fresh tomatoes when in season.
Fresh: of course, you could use imported fresh tomatoes from Italy if you want to splurge, but depending on your supplier (and budget) I suggest you go for freshness over provenance. I personally try to reduce the food mileage when the local equivalent is excellent, and I found that freshly picked Isle of Wight tomatoes are better than a sad and old Ciliegino from Sicily.
Tinned/passata: I find Mutti (largely available on Ocado and supermarkets) and Alce Nero (a bit harder to find, mostly organic shops) the best non-deli options. Of course, if you happen to get your hands on a truly homemade-style passata or tinned/jarred tomatoes, they're mostly worth the splurge. Every year, I get a few jars of the summer Abruzzo tomatoes (a variety called Pera) canned by my family simply with some poaching liquid, salt and a basil leaf, and open one when I am feeling really homesick. The smell alone brings me right back!
This is less of a recipe than it is a canvas on which you can -and should! – improvise based on season, availability and personal taste
This is a home style, quick- prep recipe based on the holy trinity of "soffritto" – onion, carrot and celery – but with a lazy twist (or rather, a busy homemaker twist): no fine chopping required. Depth is added to the sweet-leaning trio with a few strips of red pepper – don't skip it – and by some hot Peperoncino, of course, although its heat will be very much tempered by the cooking. You'll note that this recipe contains no garlic (in my house the rule was that only one could be used in a recipe, either garlic or onion) and no pepper.
Soy sauce is of course untraditional, but a lifesaver if your tomatoes are not as sweet and ripe, and I much prefer it to plain sugar with its salty-savoury balance. Nonno Pasquale became a huge soy sauce fan (and fish sauce fan, but that's for another day…) after being introduced to it by my Malaysian husband.
Ingredients (makes enough for 6/8 portions of sauce)
400g ripe tomatoes or 1 tin Tomatoes (I prefer the whole ones to the pre-chopped)
400g tomatoes passata (some brands come in bigger sizes like 500-650g, these are ok too)
4 tbsp extra virgin olive oil, plus more to serve
100/150g carrot (a medium one)
150g onion (a medium one or half a big one)
1 stick celery
150g red or yellow pepper (a smallish one or half a big one). If you don't have fresh peppers at hand, use a tablespoon of Verde Giovane
1 tbsp Rosso Maturo
A few leaves of basil on the stem, if available (I wouldn't use dry basil here as it loses flavour so much)
1 tbsp dark soy sauce (optional – can also be subbed with1 tsp
1 Parmigiano rind (optional, but always worth keeping in your fridge as a flavour booster) or a tbsp of nutritional yeast (for vegan option)
1/2 tbsp Sea salt
Directions
Prepare the soffritto vegetables: peel, top and tail the carrot and cut it lengthwise into 4 strips. Discard the outer onion layer and the core, and quarter it. Chop the celery stick into 3/4 pieces.
If using fresh tomatoes: roughly chop into thumb-size pieces. If you're using cherry tomatoes, just half or even leave whole and just prick the skin if small. For larger tomatoes, I don't discard the seeds religiously but just squeeze out the seed-heavy core, and leave it behind for stock/soup. If using tinned toms, you can make quick work of chopping by using scissors inside the tin itself.
Heat the oil in a medium pot with a heavy bottom. When warm, add the chopped fresh tomato or tinned ones and cook for 3-5' with a pinch of salt.
Add all the other ingredients: the passata, the vegetables, the cheese rind and the soy sauce if using. Give it a good stir but try not to break the onions up too much if you want to fish them out later.
Bring to a soft boil, then lower the heat and keep to a simmer for anywhere between 45' and 60', until the flavour have come together and it doesn't look watery (you can loosely cover the pan if you see that the liquid is evaporating too much).
Let it cool down a touch, then remove the vegetables (onion, celery and carrot), the limp basil leaves and the cheese rind with a slotted spoon. Leave the tomato pieces in, of course!
Variation: if you prefer a stronger flavour, a higher fibre content or are just not a fan of food waste, you can blitz the vegetables you'd otherwise discard and put them back into the sauce.
Buon appetito!
Ideas to use this sauce
To dress long or short pasta; as a base for a minestrone with whatever veggies are seasonal and/or stranded in that fridge; diluted with stock to make a comforting pasta or rice soup.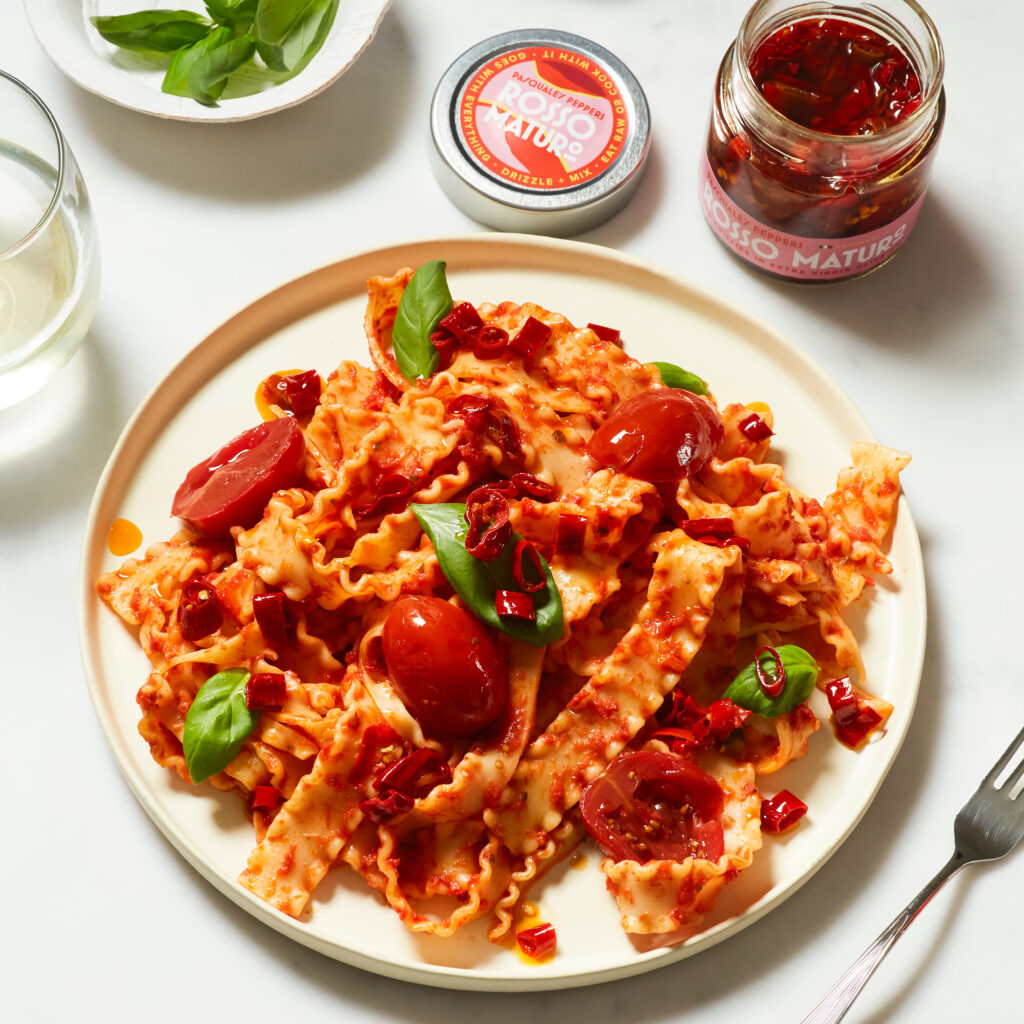 To serve with pasta:
Parmigiano, or Pecorino, or a mix of both, quantity to taste (replace with fried/toasted breadcrumbs if you want to keep the dish vegan).
More Rosso Maturo or Verde Giovane Peperoncino
A final note: this is such a simple dish that the quality of ingredients will make the difference between good and great, so if you can use the best pasta you can afford! Again, from widely available in the UK and relatively cheap to luxe brands, I'd recommend: Waitrose 1/De Cecco/Rummo/Rustichella d'Abruzzo and for a real treat and a twist on tradition, why not check out UK-based makers like Pastificio Carleschi or handmade Pastaio A Mano?
Non-pasta ideas: use the Everyday tomato sauce to cook eggs in (Uova in Purgatorio, the simpler Italian cousin of Shashuka eggs) or meatballs (beef-pork or vegetarian, Spinach-Ricotta a favourite of mine). This sauce keeps on the fridge for up to a week, and it freezes well.